One of the most common questions that can be met is which MacBook to choose in 2018. Quite sincerely and with all responsibility, we can say that the best laptop from Apple today is the MacBook 12. It is compact, very thin, with good autonomy and an excellent display. It's the perfect laptop for life and a little bit to work with. But suppose you are not a fan of macOS, however, you still like the MacBook 12. What to do in this case? The answer is – Huawei MateBook X. It's the same thin, powerful enough, it does not have active cooling, but there is an excellent keyboard, good autonomy, and an excellent display.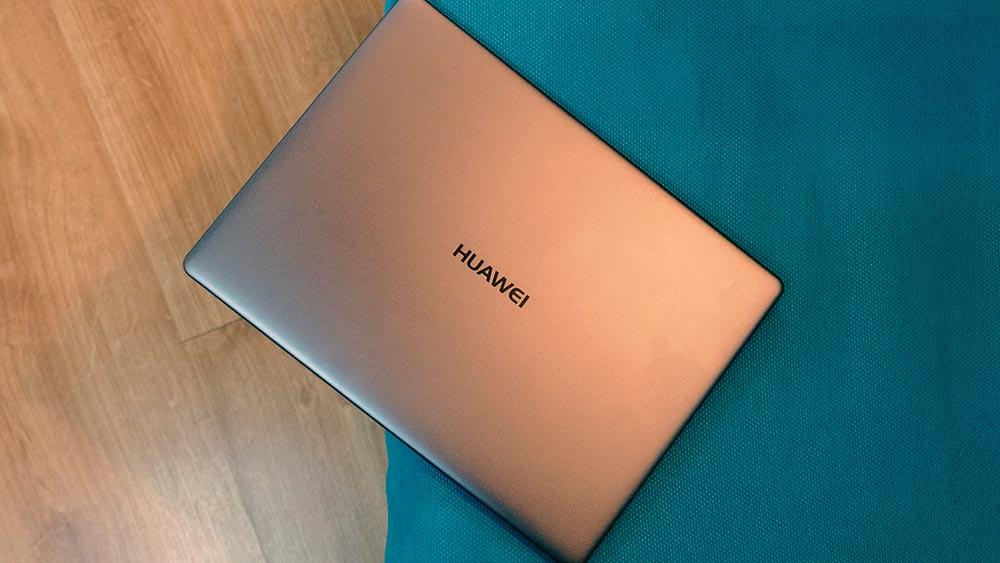 Appearance
The design echoes with the MacBook 12 and it's rather good. Huawei was able to make a very thin and stylish body of three different colors: Space Gray, Gold, and Pink. In dark gray, the MateBook X looks stern and does not even collect prints much, although the stains still remain. Assembled MateBook X perfectly – you feel that the thing is quality and expensive. The body has only three connectors: one Type-C on both sides and a 3.5 mm headphone jack on the left. Type-C on the right side serves to connect peripherals via a complete adapter for USB-A, HDMI, and VGA. Type-C on the left serves only for charging. Power is connected only to it and it is not always convenient. Unfortunately, there is no SD card slot on the laptop, as there is no SD card slot on the adapter.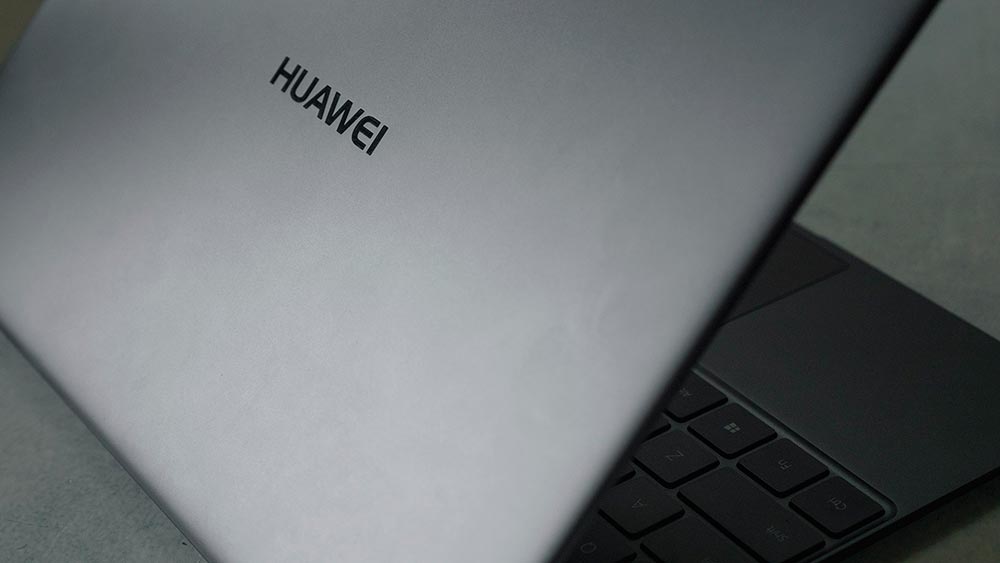 MateBook X passes the "test on the MacBook", that is, it is easy to open with one finger. Under the cover is a large and comfortable keyboard, which occupies the entire surface. The keys are spaced and there is no problem with quick typing. The keyboard has a small stroke, the presses are soft and the noise produces quite a bit. I would like a slightly more distinct impact, but this is nitpicking. The keyboard has an adjustable backlight, and the power button incorporates a fingerprint sensor, which is incredibly convenient and very relevant. The touchpad here is not the biggest, but its size is enough for normal operation. The truth is pressed only in the middle and lower parts of it, and frankly – it requires addiction.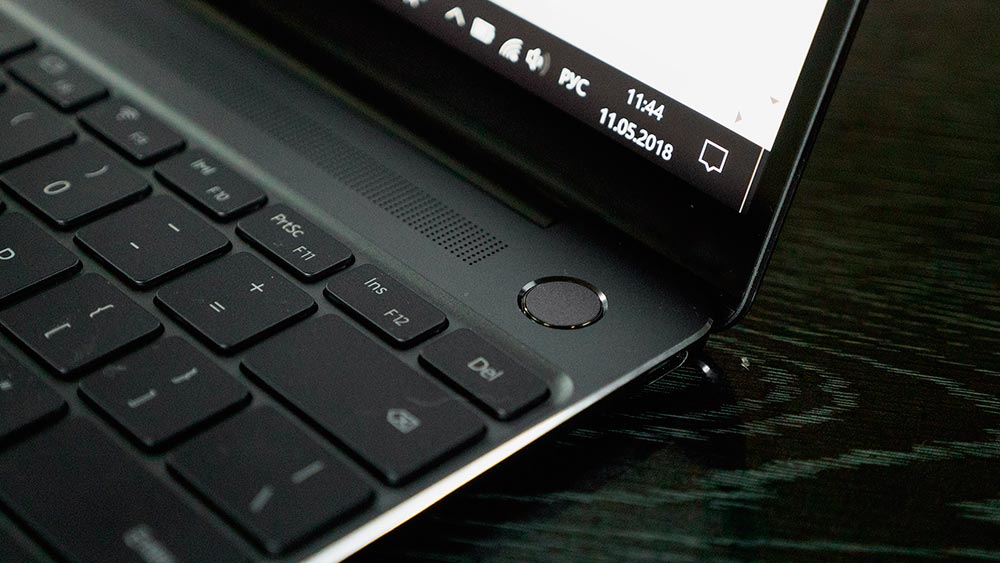 Screen
Huawei managed to fit a 13-inch screen into this laptop, although the size of the MateBook X is not much different from the MacBook 12. The display with a resolution of 2160 to 1440 pixels and a 3: 2 aspect ratio. This unusual ratio is convenient for surfing the Internet and working with documents. More information is displayed on the screen. However, when watching videos or movies, bands appear on the top and bottom. It's funny that when playing videos with a 16: 9 aspect ratio, the useful area of the screen is just 12-inches. The frame of the laptop is really very narrow, which allowed to place in the MateBook X such a large display, which occupies 88% of the entire front surface.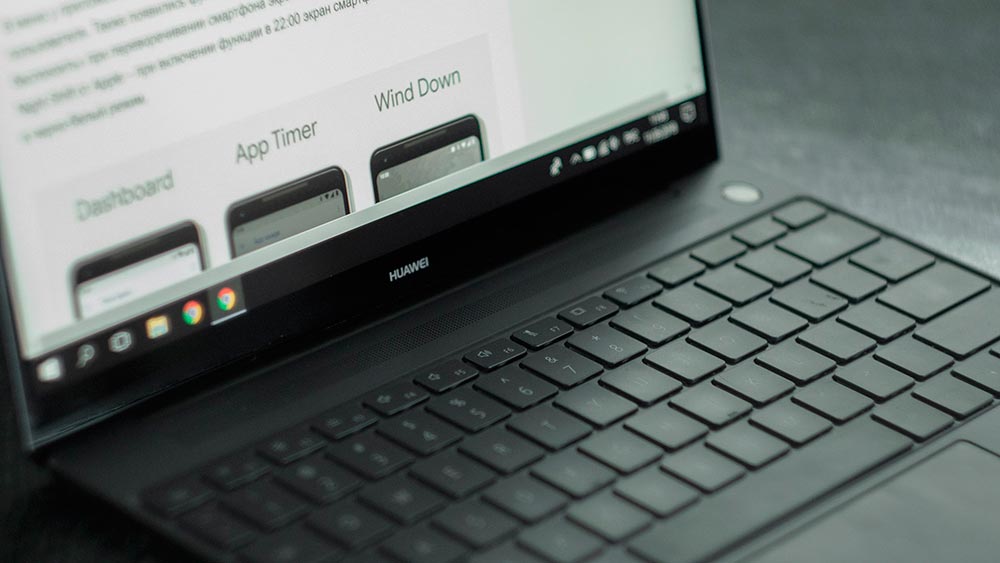 The screen is protected by glass Gorilla Glass. This is good from the point of view of its safety and not very good from the point of view of glare. If you want to work on the street, then you have to choose a place in the shade. Given that the display is not touch-sensitive, the surface could be matte. The screen is made using IPS technology. It has maximum viewing angles, there are no inversions, but here it is not the reference contrast. The black color has a small light and it can not be called very saturated. Nevertheless, the picture is very, very good. For work and especially for life, this display is exceptionally good, not counting glare on the street or from bright lighting.
Performance
It is clear that this ultrabook is not a game. In our case, the MateBook X was equipped with an Intel Core i5 7200U processor. This is the seventh-generation processor and it does not have active cooling, that is, the laptop runs without a cooler. Also in our version, there was 8 GB of RAM, Intel HD Graphics 620 graphics, and 256 GB SSD. On sale, there are options with Core i7 and a 512 GB drive. In normal work, for example in Photoshop, or when surfing and watching movies, there are no problems and heating. But if you load the laptop to the maximum – for example, put a video on the render with a bunch of graphics, then the performance of the processor drops significantly. It is necessary that he does not corrupt it. However, it's unlikely that you will buy the Matebook X for complex editing and mooshn-graphics. He has completely different tasks. The simplest video editing, working with documents,
Here such results show benchmarks: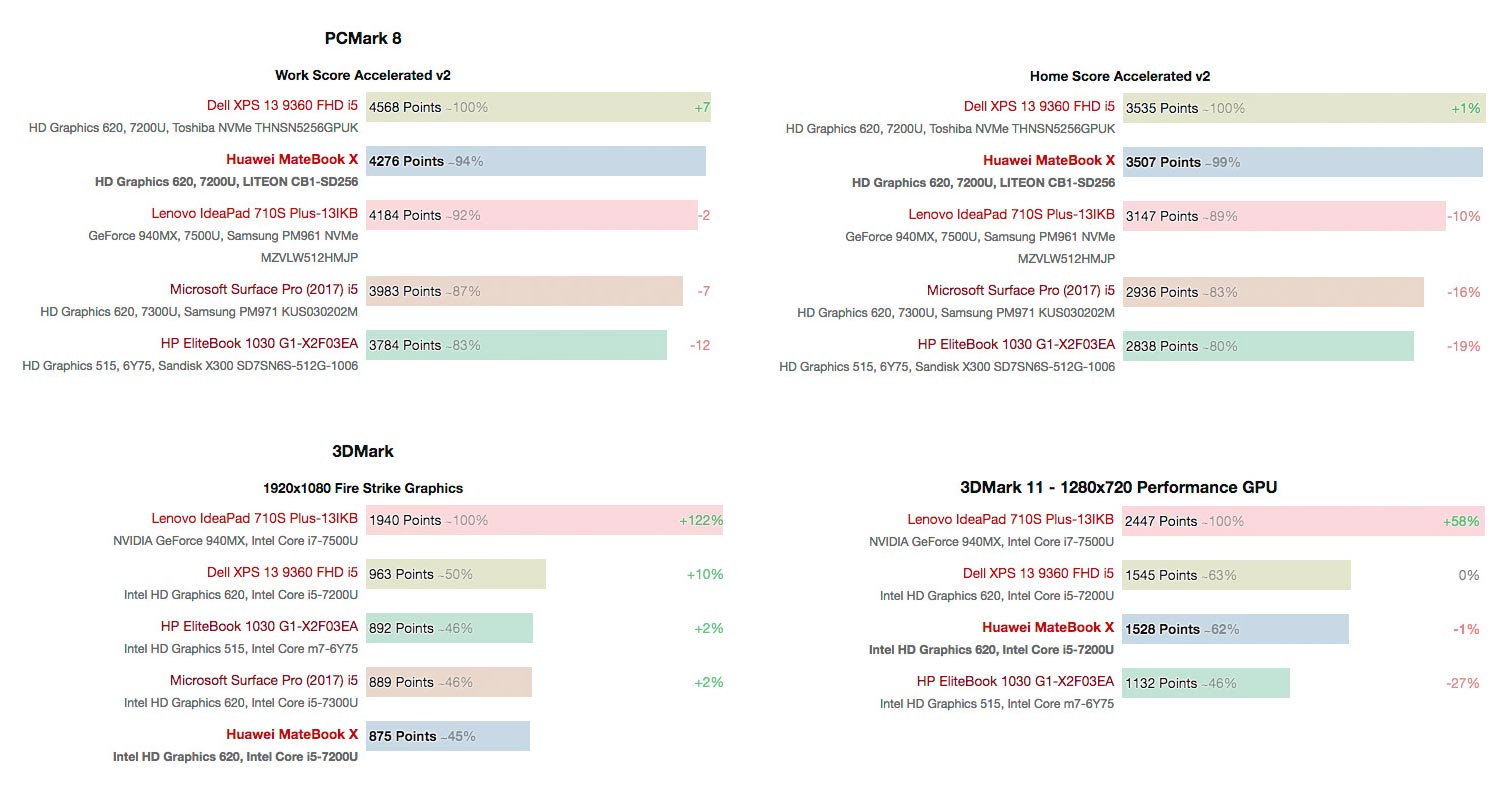 In normal life and when working with various programs, the laptop does not heat much and does not cause any discomfort. The company's proprietary passive cooling technology Huawei Space Cooling Technology is doing fine.
Autonomy
If the performance here is very good, then I would like to have more autonomy. 6 hours of honest battery operation is without a doubt good, but Windows laptops can do more today. And MacBook 12 can work and 9-10 hours. Of course, with MateBook X you can also squeeze more, but you have to seriously limit yourself. In normal operation, you will receive approximately 5 to 7 hours of battery life.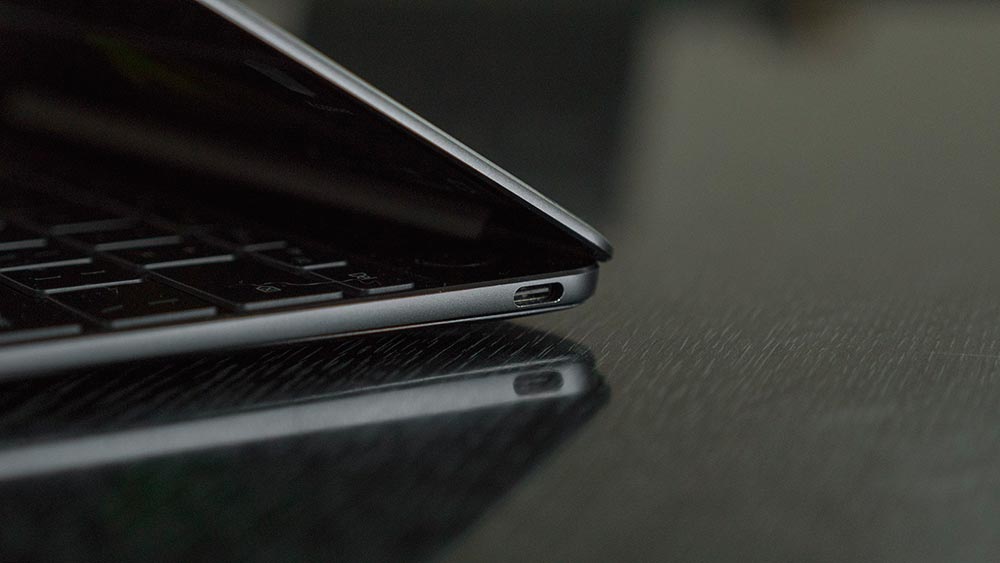 Sound
But for what Huawei wants to praise, it's for the cool sound. Usually, the inscription "Dolby Atmos" on the case does not mean anything, but there really is an excellent, loud and rich sound. From such a small and thin laptop, the sound of this level simply does not expect, and it's very impressive. Watch movies, TV shows and listen to music here really you can and you need.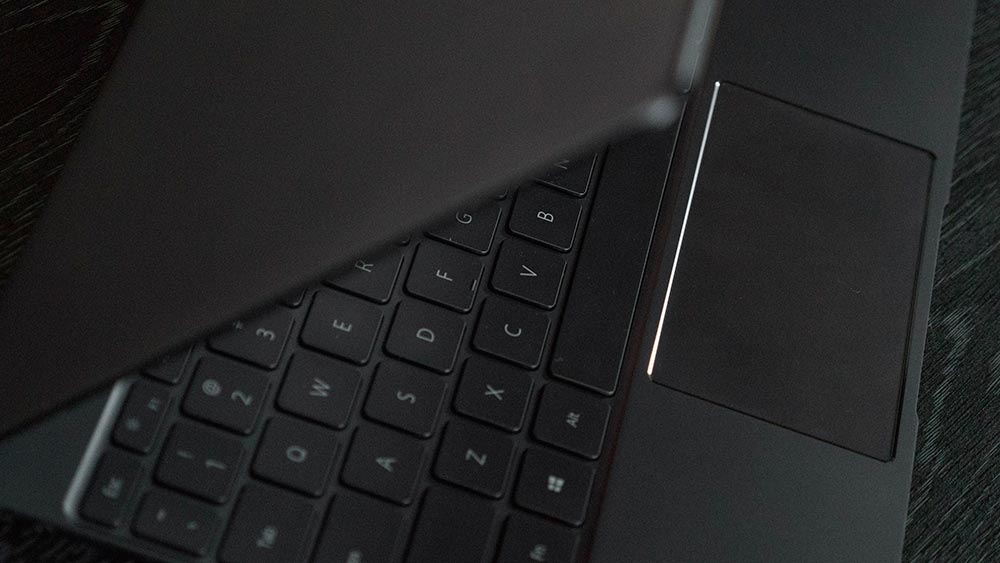 Specs
Category
XPS 13 (9370)
Huawei MateBook X Pro
Processor
8th-Gen Intel Core i5-8250U
8th-Gen Intel Core i7-8550U
8th-Gen Intel Core i5-8250U
8th-Gen Intel Core i7-8550U
RAM
4GB/8GB/16GB DDR3
8GB/16GB DDR3
Storage
128GB SATA SSD
256GB/512GB/1TB PCIe SSD
256GB/512GB PCIe SSD
Display size
13.3 inches (touch and non-touch)
13.9 inches (touch)
Display Resolution
1,920 x 1,080 (FHD)
3,840 x 2,160 (4K UHD)
3,000 x 2,000
Graphics
Intel UHD 620
NVIDIA MX150 (2GB GDDR5 VRAM)
Ports
Two Thunderbolt 3
USB-C 3.1
microSD card reader
3.5mm audio
Thunderbolt 3
USB-C
USB-A 3.0
3.5mm audio
Wireless
Killer 1435
802.11ac (2 x 2)
Bluetooth 4.1
802.11ac
2 x 2 MU-MIMO
Bluetooth 4.1
Camera
Front-facing 720p
IR camera for Windows Hello
Front-facing 1MP
Biometrics
Fingerprint reader (optional)
Fingerprint reader
Battery
52Wh
57.4Wh
Dimensions
11.9 in x 7.8 in x 0.3-0.46 in
(302 mm x 199 mm x 7.8-11.6 mm)
11.97 in x 8.54 in x 0.57 in
(304 mm x 217 mm x 14.6 mm)
Weight
2.67 pounds (1.2 kg) non-touch
2.68 pounds (1.2 kg) touch
2.9 pounds (1.3 kg)
conclusions
For Huawei MateBook X is the first experience in building classic notebooks. And for the company doing this for the first time, everything turned out very worthily. No serious claims. The glaring screen and the indistinct stroke of the keys is a minus sign. Where autonomy is more embarrassing – it's not horrible, but the running time from one charge could be better. And in all other respects, it is an excellent ultrabook with an excellent design and a thin stylish metal case.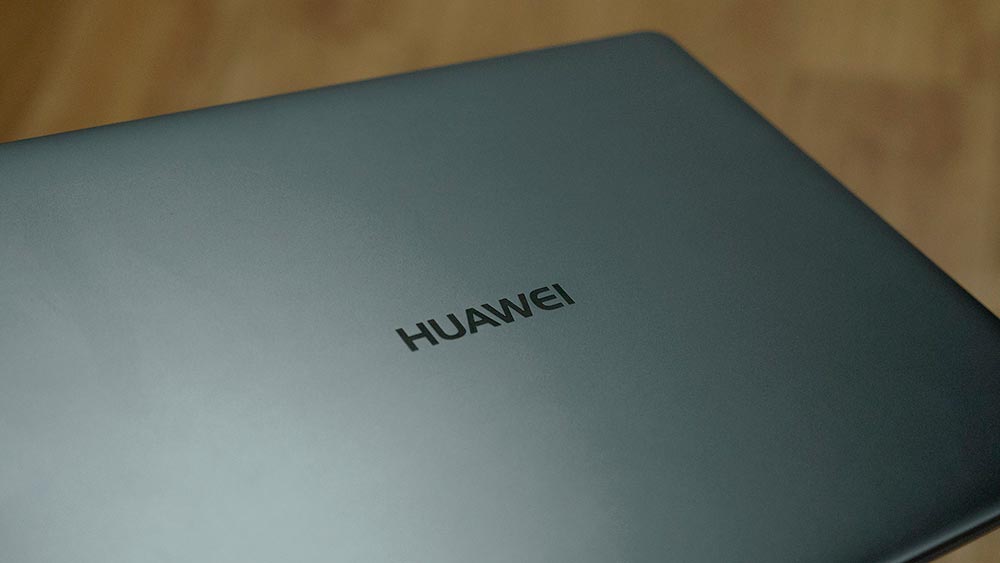 This version of the laptop costs about $ 1200. The flagship version with Core i7 and 512GB SSD will cost about $ 1500. And if you are looking for a stylish, thin and fast ultrabook, the Huawei MateBook X we can safely recommend you. However, Huawei already has something more perfect – MateBook X Pro. The latest ultrabook company with an incredibly narrow framework, a large touchpad, and a similar design.